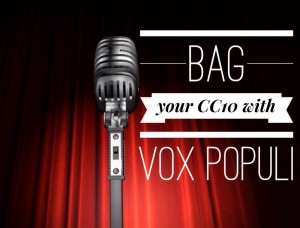 So you've done the donkey work, you've laughed, cried and sweated your way through 9 speeches in the Competent Communicator manual and now the Holy Grail awaits you – CC10 and the Award of Certified Competent Communicator. Are you going to baulk at this final hurdle? Are you going to cast your CC manual from you and run screaming for the hills? No, you are not my Dear Reader and I'll tell you why. You are a member of Vox Populi , the Coolest Toastmasters Club in the World and we do not accept losers! We know you can do it! Even when you're up there on the stage and your knees are doing the jitterbug and the perspiration is popping off your forehead, don't lose heart – we still have faith in you and your ability to COMMUNICATE!
To help you take that final step towards the Hallowed Hall of Vox Populi Fame and Toastmasters Glory, I have compiled a trusty, little checklist with a few reminders about things you should not ON PAIN OF DEATH forget about before you deliver your CC10. Here goes!
Ensure your vocal chords are in good working order before the big night. Tips on how to attain superior vocal clarity include doing vocal exercises or……………… singing for nine consecutive days in the shower before work, and in the car on the way home. Lip synching to Celine Dion on your iPod in the bus/on the Luas does NOT count.
Try recording yourself delivering your speech in the run up to the big event.  It's even possible to purchase tripods for most smartphones now, so you don't even need someone there to record you, if you have a good video camera on your phone. You can critically assess your own performance or share the recording with others who can evaluate it for you so that you can see where you need to improve. Better still, practice in front of a live audience;  bribing a few trusted friends can be useful.
Remember you're not supposed to use notes for your CC10 so if you feel tempted to use notes before this final stage of your CC manual, my advice is to eat them first – preferably before an audience. Failing this, deliver a powerpoint presentation – at least then you will have the slides to refer to you if you need a gentle reminder of what's coming next.
Your objective of your CC10 is to inspire and motivate your audience. With that in mind, consider what legendary figures from history you could seek to emulate on the night. Dustin the Turkey is automatically excluded from this list.
Dress suitably for the occasion, no lime-green ,polka- dot trousers or fluorescent pink ties need apply.  Dress in a way that makes you feel confident and comfortable in your own skin. Some theorists claim that the colours of the clothes we wear emit different frequencies, so bear this in mind when you are contemplating what kind of effect you want to have on your audience, and on yourself.
And finally GOOD LUCK! Remember every single member of Vox is behind you 150% and can't wait to congratulate you on achieving your CC10.  So regardless of whether you're starting out on your CC manual or whether you've only one more speech to go, we're here to support you on your personal journey through the exciting world of Toastmasters and to share in your many successes along the way!
Gemma Shannon, Vice President Public Relations