Vox Populi Dublin Toastmasters is a dynamic, vibrant public speaking club that is part of  Toastmasters International.
We understand how great the fear of public speaking can be. We are here to help the apprehensive, the anxious and the downright terrified. Members have the opportunity to broaden their skill sets not only as communicators but also as managers and mentors by participating in weekly roles. Vox Populi is also a highly social club, with a social committee dedicated to organising fun events.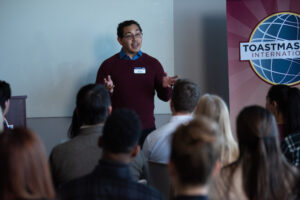 Our Meeting
Date
The 1st and 3rd Wednesday of each Month
Time
7pm start (we recommend arriving 10 minutes before to sign in and find a seat). We finish about 9pm.
Venue
Harcourt Hotel, Harcourt St, Dublin 2
Please subscribe to our mailing list to find out when our next meeting is
Meeting Structure
Our meetings are in two sections. We recommend attending both so you can learn more about the structure of a Toastmasters meeting and how it can help your public speaking skills.
In the first half the Toastmaster will introduce the meeting roles and will pass the meeting to the Topicsmaster for Table Topics.
Table Topics is our impromptu speaking section of the meeting. Our Topicsmaster will ask a question and invite someone to respond to it or open the floor up to a volunteer. It's a great way to assess your public speaking skills in a safe environment.
Guest are not required to respond but can ask to be included in the list of responders or may volunteer to respond.
In the second half members will present their prepared speeches and will receive an evaluation from another member. The meeting roles will also give their report.
Membership
After you have been to a few meetings as a guest and want to start your Toastmasters journey to become a better speaker and leader then we recommend joining as a member.
Membership is €150 per year and includes the Pathways education program as well as the chance to present prepared speeches, give and receive evaluations and take on meeting roles.
You can also enter speaking competitions such as International Speech Contest and get discount on our social events such as our Christmas and Summer Party.
 
Guest
Member
Price
€5 per Meeting
(First Meeting is Free)
€150 per year
Table Topics
Impromptu Speaking Topics
✔️
✔️
Pathways
❌
✔️
Prepared Speeches
❌
✔️
Evaluations
❌
✔️
Meeting Roles
❌
✔️
Discounts on social events
❌
✔️
Entry to competitions
❌
✔️
Useful links:
Toastmasters International website
District 71 (UK and Ireland) Toastmasters website