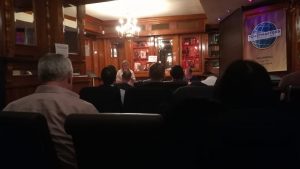 On a cold and wet November night with the lingering taste of sugary Halloween treats in our mouths, our last meeting was a celebration of guilty pleasures and things we enjoy. It was well attended by members and plenty of welcome guests.
Topicsmaster Albert challenged members to choose a piece of paper with mystery topic to speak about. All related to the theme of pleasure. We learned that our members and guests like to indulge in anything from documentaries and takeaways, to attending Oktoberfest, reading about the stock markets, and watching Love Island. A very creative guest speaker told us he enjoys smelting aluminium cans to make jewellery.
When questioned if chewing gum was a guilty pleasure, Mark recoiled, telling us a childhood horror story of finding gum stuck on the school radiator on a winter's day. Meanwhile, Conor offered a handy hint to deter procrastination on YouTube, to change the app's name to "Time to Kill". Clever!
We learned a new word when Albert informed us that hedonophobia is a fear of pleasure, which Gerry believes is found in the nitpickers and negative Nellies of this world. Patrick met the daunting topic about Christian Grey's philosophy of pain and pleasure going together with a quip: watching the 50 Shades of Grey movie inflicts pain on the audience. Good point!
During the Open Mic session, Damian treated us to a recital of William Ernest Henley's "Invictus" poem. This was enhanced by his story of a terrifying experience on a scuba diving course, which had the audience enthralled.
There were 2 speeches. First Bo gave a thought provoking speech about Buddhist philosophy applied to the 5 areas of happiness, enemies, self-love, relationships and karma, concluding that we all need alone time to ponder our reason for existence.
Next Albert offered advice on conflict management using principles of Aikido. Confidence, anticipation and negotiation skills are key to turning that foe into a friend!
Evaluations of the speeches were given by Deirdre and Richard. Mairead kindly stepped in as General Evaluator on the night (as did Richard as speech evaluator). As role cancellations sometimes occur on the night, we really appreciate those who volunteer to help out on the night, and what a great way to push your comfort zone!
Our next meeting is 7pm Wednesday 21st November in the Harcourt Hotel, Dublin 2. See you then!
Deirdre McCabe
VP PR Vox Populi Toastmasters
Meeting 7th November – Indulging in Guilty Pleasures