'Summer time and the living is easy,
Fish are jumping
And the cotton is high'
Gershwin and DuBose Heyward had the right idea when they composed the music and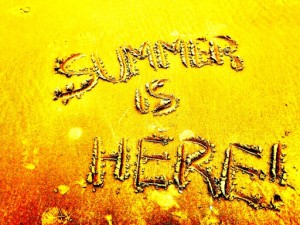 above lyrics to the well-loved aria from 'Porgy and Bess'.  The song conveys a sense of richness, a warmth that only summer can bring, a longing for those hazy days when you can sit outside with a cool beer and drink in the sunshine.  Does our Irish summer hold the promise of those lazy, hazy days for us this year? It's only the beginning of June and already we've had a mixture of fantastic sunshine and wet dismal weather, so to be honest, your guess is as good as mine. One thing is for sure though; we've had a wonderful year at Vox Populi Toastmasters this year, regardless of the weather!
With the arrival of summer and the conclusion of the current Vox Populi Toastmasters season a few short weeks away, it's an opportune time to think about the holiday season and how you can make the most of it. Just because you won't be going to Toastmasters on a Wednesday night anymore after June, doesn't mean you can't think about Toastmasters until September, now does it?
Here are a few tips on what you can do to keep Toastmasters at the forefront of your mind despite the sunshine (or lack of it).
1.)    Been invited to any weddings over the summer? Happen to be part of the Bridal Party by any chance? Now is your chance to seize the moment and bring your Toastmasters skills to the fore with a speech at the reception. Keep it concise, heartfelt and above all keep it clean! You'll wow the audience when you produce your visual aids at the top table LOL
2.)    Keep up with your reading! One of the best ways to become a better speaker is to study the tried and tested techniques of other speakers. Draw up a 'hotlist' of the books written by some of these speakers.
Some of my favourites include: 'Give your speech, change the world' by Nick Morgan (available at all good bookstores) and 'How to Presentation Skills' by Harry James (free to download in the Apple iBook store)
3.)    Some of the most powerful and most inspirational speakers are available to watch online. Check out www.ted.com for a mesmerising selection of high profile speakers. Take the time to critically evaluate their speaking style, their delivery, their body language – and see if they are demonstrating any speaking techniques that you can emulate in your own presentations and speeches. You never know, keep up with Vox Populi Toastmasters and you might be seeing yourself up there on www.ted.com someday!
4.)    Going to any good Festivals over the summer? You are? Excellent! I've got some homework for you; the next Festival you go to either a) bring a notepad or b) take notes on your phone because without a doubt while you are at it, you are going to get some great ideas for your next role as Topicsmaster! From the woman in the lime green doc martens (Rebel without a cause?) to the tent that collapsed in the middle of the night (Amityville Horror) to the bus journey back to Dublin amid a crowd of teenagers singing at the top of their lungs (High school Reunion anyone?), you'll find that any festival you go to will be a rich source of material for your next topics session.
So there you have it Folks, Vox Populi club meetings will be running until the end of June, (last meeting on June 25th) but now is the time for you to start planning for your summer break and how you're going to return in the Autumn, if not a seasoned Ted Talks speaker, at least ready to tackle you're the next stage of your Competent Communicator manual. Best of luck!
 Gemma Shannon – Vice President, Public Relations