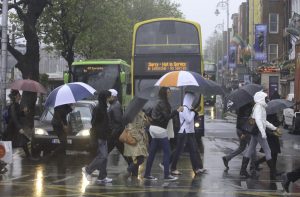 It's wet, it's windy, it's miserable. You've done nothing but complain about the summer, and now,  like an annoying relative who dropped in for tea (and who actually wasn't that bad) it's gone and you're sorry you didn't make more of an effort. Time to redeem yourself. This year instead of hibernating knee deep in Dairy Milk, you'll make some sort of stab at self-improvement. Because, really, can you face one more meeting where you speak like Minnie Mouse and your hands are shaking?  Rise up then from the couch, cast off your PJs and shuffle out into the big, bad world that is public speaking.  For 'tis September and time to be talking.
Vox is back, this time with a new schedule. We're on the FIRST  and THIRD  Wednesdays of the month now starting at the usual time of 7pm.  Good news is that Vox is NOT  hiking it's fees in spite of a hefty price increase from Toastmasters International. We will have to charge both members and guests 5 euro at the door but this is only in line with usual club practice. So more excellent value at Vox.
Our first meeting was last Wednesday and we had impromptu speaking first followed by prepared speeches after the break. Topics were varied and interesting: Would you trust a self driving car? Watch hours of train travel on 'slow TV'? Should men get more parental leave? And what's the weirdest place you've ever been on a date?  
(Answers: No, no, yes/kinda/it's complicated, a farm).
We had two advanced speeches. John's fascinating examination of crude oil prices and Kevin's motivational/informative speech on second language acquisition (casually showing off his Polish as well). Bo reminded us how advanced the Roman empire was  and Jill told us of the trials and tribulations of having a fish allergy (sounded miserable but all is well now).
Join us for our CLUB CONTEST  at our next meeting on 21st September, 7pm. It's always a fun night particularly if you enter so DO! It's  our Humorous Speech and Topics Contests.  Anyone who wishes to compete or help out please email Mark at president@voxpopulidublin.com.
And in the meantime, wrap up well,  brave  the rain and get talking! :)
Fiona O'Meara
vpm@voxpopulidublin.com
It's time to talk 7th September, 2016