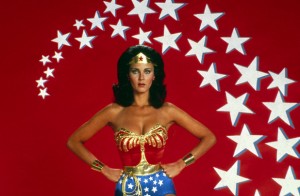 Would you time-travel JUST to meet this lady??? Dan G would. Any lady who can deflect bullets with her bangles and lasso baddies in her high-heels was worth facing the eighties for.
But isn't it disappointing, I argued, that TV's best-known female super-hero wore scarcely more than star-spangled knickers? That's hardly a role-model for young girls.
The men disagreed.  "She fought for her rights in her satin tights," argued Dan O'N quoting the theme song.  "I thought her outfit was quite nice" I thought I heard from the back. "Linda Carter was Miss America and champion of women's rights." Yeah! She wore her bikini for that job.
MacGyver (fully attired) was Deirdre's childhood hero as "there was nothing he couldn't do." (See how we focus on ability?). John heroically took on the Ministry of Mindfulness, asking us all to switch off our mobile phones for the day and it earned him Best Topic. Gerry O'B had us in stitches closing up the Web Summit finishing on a serious reminder – multinationals go where suits them.  It was an excellent topics session given by the wonderful Jill F.
Onto speeches then and we had two gems, one from a Distinguished Toastmaster, Barry Lane and the other from contest winner Gerry French.
Barry's "A Sporting Gentleman" recounted how Jerry Collins, forty-eight times capped by the All-Blacks, aka 'The Terminator', ended up on a bus with a motley crew of plumbers and bricklayers to play reserves for a humble Division 5 League Rugby club. In doing so, he proved himself to be a gentleman, posing for photos after and coaching the kids. This funny story was made poignant when we learned that Jerry died in a car crash at only thirty-four, his arms wrapped around his little four-year old in the back who survived.
Gerry French, winner of this year's Division C contest and off to compete in the UK next weekend, had us in stitches with his humorous speech "Don't Get Me Started".
What gets Gerry grumpy? Mobile phones, Facebook, blogs – don't get him started. "Men who complain about being married don't actually live longer than single men. It just seems longer. Complaining won't make us live longer, we know that, but it will make us feel better. Say it straight … we love being irate."
Well, if you're looking for stuff to get your goat AND hoping to fit in some time travel whilst you're at it then check out the clip below. Watch Wonder Woman get her knickers in a twist (I couldn't resist) whilst lassoing the lads.  Oh ladies, don't look…
(And.. don't forget our debating workshop next Wed, Nov 11th in Oil Can Harry's 7pm. More info below).

DEBATING WORKSHOP – 7pm Oil Can Harry's Wed, November 11th.
Experienced debater and former VOX President, Maria MacMullan, teaches us how to debate. Through practical exercises and tips Maria shows us how to argue and rebut. Suitable for beginners and experienced. Only five euro for guests and FREE for members. 
Fiona O'Meara
VPPR