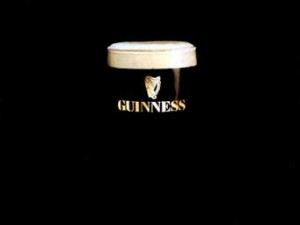 "Arthur's Day" may have been axed this year but VOX is still going strong and as mad as ever. Wednesday saw us fighting horse-sized ducks, rewriting the "Our Father" (sooo funny – read it below) and being hit by meteors in the street.
Mark's outstanding topics session combined the frivolous with the serious. I failed to convince members that an Evil Knievel Toastmaster type reality show would be a hit, whilst Colette succeeded in arguing that childcare is a really important issue in Ireland.
Frank thinks that, yes, men should pay for women on a first date whereas Gerry thinks that first dates might enjoy the Bramstoker Museum in Fairview which everyone should visit at least once. Siobhan advised us to "prepare for the war when we take on the battle" and Deirdre advised avoiding 'Happiness' the movie as it is anything but happy.
On to speeches which were really enjoyable. Malgosia,  a lovely new member, gave a very impressive icebreaker on the power of positive thinking. She's gone through "different stages in her positive thinking career" but ultimately she believes it enabled her to get the job of her dreams and succeed in exams.
Ana-Maria gave an excellent CC8 speech making intelligent use of PowerPoint. Her speech on the architect, Antoni Gaudi, engaged, interested and informed us and her slides were simple containing beautiful images of Gaudi's magnificent work.
The high "pint"  of the evening, however, was Gerry's recital of a reworking of a classic in response to the cancelling of Arthur's Day.   It is SUPERB!
We believe in one drink, Guinness the almighty
Makers of cans and bottles
Of all that is drunk and un-drunk
We believe in one brewer, Arthur
The only son of Guinness
Eternally begotten of the hops
Hops from hops, barley from barley
True drink from true drink
Begotten not made
Of one distillery of the Father
Through it all things were made
For us men and our salvation
It comes down from St. James Gate
By the power of the market he became incarnate
And was made a rich man
For our sake we are crucified under Pontious Prices
Bad pints, suffer hangovers and A.A. meetings
On the next day we rise again in accordance
With our scruples and ascend into oblivion
We come again to judge the living and the dead
We believe in one alcoholic beverage
Brewed and bottled under one licence
We acknowledge one Arthur, son of the almighty pint
Conceived in heaven and sold on earth
Blessed is the one drink through one father and many
sons
Sold under one label and distributed throughout the
world
We look for the resurrection of new drinks
And a cure for hangovers.
Amen to that.
Area Contest is on next Monday, 5th October in the Lantern Centre, 17 Synge St, Dublin 8 at 7.30. Please come to support our own Maria McMullan and yours truly in the Table Topics and Humorous Speech contests. Should be a laugh!!
Fiona O'Meara
vppr@voxpopulidublin.com